"This book has so many different things to it. Mystery, intrigue, attempted murder and kidnapping. Romance, BDSM, and so much more. It's a great start to this series and one I want to read over and over again." Amazon reviewer.
​
Antiques and ammunition do not mix well.
The antique trade is not known for its life or death excitement and Landry Carran is happy that he has to contend only with furniture polish, woodworm and his irascible Chinese boss. He gets all the thrills he needs at his favorite BDSM club, Scorch.
Detective Gage Roskam is hunting stolen jewels taken from a Tokyo exhibition then shipped to Seattle. Mired in a deadly race involving the Yakuza, an enigmatic Englishman and too many indecipherable clues, he doesn't have time to indulge in Dominant fantasies.
When their worlds collide, neither Landry nor Gage expects things to get quite as complicated—or dangerous—as they do. When Landry steps into the path of some powerful, ruthless people, it's up to Gage to protect him. Along the way they might just discover what they both need.
​
​
"Ohhhh, this series is SOOOO good. If you love a good mystery, this is the perfect series for you. It also has a healthy dose of BDSM, a bratty sub, a Dommy Dom, and trouble that seems to follow them wherever they go." Love Bytes Reviews
​
Life would be simpler if X marked the spot.
​
When Landry Carran buys an antique mirror from a pop-up flea market, he doesn't expect it to set him on a treasure hunt originating in the Second World War. He can't resist tracking down the clues even knowing that every step brings him closer to danger.
Landry's partner and Dom, Detective Gage Roskam, has his own problems handling a money laundering case that twists and turns as much as Landry's treasure trail.
As a decades-old mystery collides with modern-day crime, Landry and Roskam must juggle work, friendships and their relationship to solve both puzzles. It'll be a miracle if nothing gets broken along the way.
​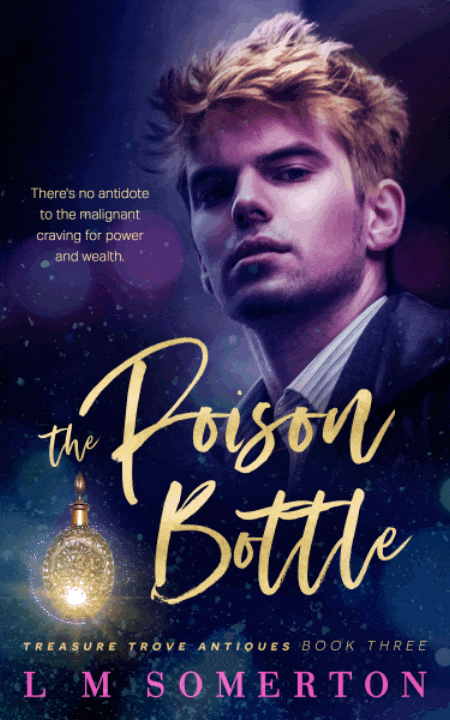 There's no antidote to the malignant craving for power and wealth.
Landry Carran should know better than to get involved in yet another murder mystery, but it was hardly his fault that someone dumped a dead body on the doorstep of Treasure Trove Antiques. He can't resist recruiting his friends to help him play detective.
Meanwhile, Landry's partner and Dom, Gage Roskham is doing real detective work that proves hazardous to his health and brings with it the assistance of an annoying Englishman who Gage believes should be behind bars.
The case twists and turns across Seattle's antique trade and the bodies multiply. As clues are solved, it becomes apparent that those closest to Gage are in grave danger. He'll need to control his errant sub, deal with the most irritating Brit ever born and solve the case if he wants to prevent more death.
​
​
​
​